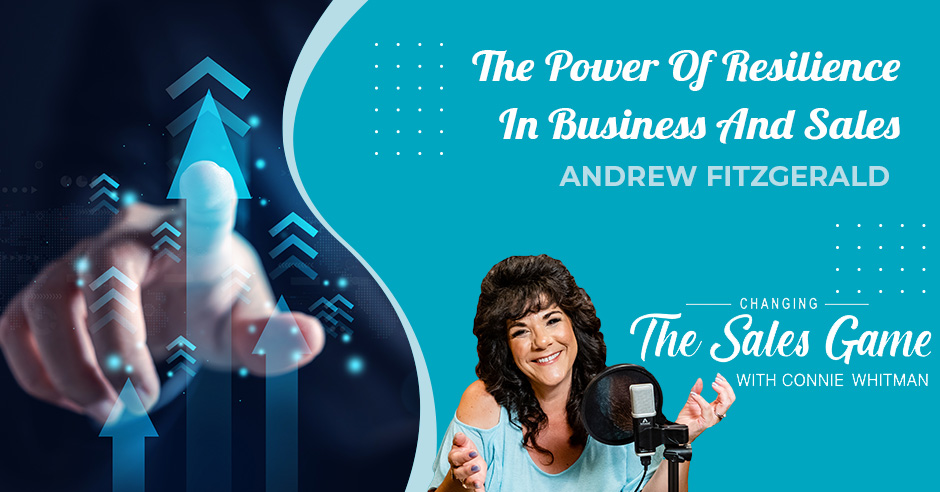 Connie's motivational quote for today is by – Winston Churchill, "Success is not final; failure is not fatal; it is the courage to continue that counts."
Check Out These Highlights:
I'm not sure about you, but I know from experience that life throws us the biggest curve balls when we least expect it.
I remember when I first had my kids, life seemed to be filled with chaos, fitting it all in.  Work, kids, family, household needs, and the list seemed to go on.  So how do we learn to keep moving forward and survive life's ups and downs and thrive too?
This is a great question, and I think today's conversation will help us all explore alternatives to help us thrive no matter what's happening around us.
Watch this episode on YouTube: https://youtu.be/S9BXyJMcfwg
About Andrew Fitzgerald:
Andrew is a native of Ireland, resides in Oceanside, California, and is the author of How Did I Get Here
Andrew, a global beverage brand builder, has launched, managed, and scaled some of the world's biggest alcohol brands through his unique approach with retailers, distributors, and sales teams. He is an expert in negotiation and coaching sales teams in the corporate world.
Andrew's extensive travel throughout the United States ultimately made him make a permanent move here, the many challenges and fears he faced and the need to show his resilience in the face of that adversity.
A father, husband, and author. He speaks on what it takes to be successful in the corporate world and how to overcome health crises, loss, and recover to flourish and thrive with resilience at the core of his story.
How to Get in Touch With Andrew Fitzgerald:
Website: http://www.andrewfitzgeraldauthor.com/
Email: fitzgerald_andrew@yahoo.com
Free Gift: https://www.andrewfitzgeraldauthor.com/
Stalk me online!
LinkTree: https://linktr.ee/conniewhitman
Download Free Communication Style Assessment: https://whitmanassoc.com/csa/
All-Star Community: https://changingthesalesgame.mykajabi.com/All-Star-Community
Subscribe and listen to the Changing the Sales Game Podcast on your favorite podcast streaming service or on YouTube.  New episodes post every week – listen to Connie dive into new sales and business topics or problems you may have in your business.
—
Watch the episode here
Listen to the podcast here
Andrew Fitzgerald – The Power Of Resilience In Business And Sales
I'm happy that you're here. As you read the show, my passion is truly to change the word sales. We get that knot in our stomach that we're being pushy or that icky vibe, and that's not okay. To help you on your journey to change your mindset from, "Sales, I hate it too," to, "Sales, I love it," I have a gift for you. It's my Communication Style Assessment. You will get two reports. Both are important.
The first one will spotlight your natural communication superpowers. It's how you're being perceived as you communicate. It's not just a business. You can use this in your personal life as well. On the flip side, you'll get a second report which shines a light on your blind spot or lowest score, which maybe is even more important because you can see how people that are opposite or communicate differently than you how your message is landing. We always want to have that ease through communication, and I certainly hope my gift helps you with that.
My motivational quote is by the wonderful Winston Churchill who says, "Success is not final. Failure is not fatal. It is the courage to continue that counts." I'm not sure about you, but I know from my experience that life throws us sometimes big curve balls when we least expect it. I remember when I first had my kids. Life seemed to be filled with epic chaos all the time as I tried to fit everything in, the work, the kids, the family, the household stuff, and the list seemed to go on and on.
How do we learn to keep moving forward and not only survive life's ups and downs but thrive through them? This is a great question. This conversation with my guest is going to help us all explore those alternatives to help us thrive no matter what is happening around us. Who's my amazing guest? His name is Andrew Fitzgerald.
Andrew is a native of Ireland. He resides in Oceanside, California, and is the author of How Did I Get Here? Andrew is a global beverage brand builder who has launched, managed, and scaled some of the world's biggest alcohol brands through his unique approach with retailers, distributors, and sales teams. Maybe he's gotten in with some liquor peeps, I'm not sure. He is an expert in negotiation and coaching sales teams in the corporate world.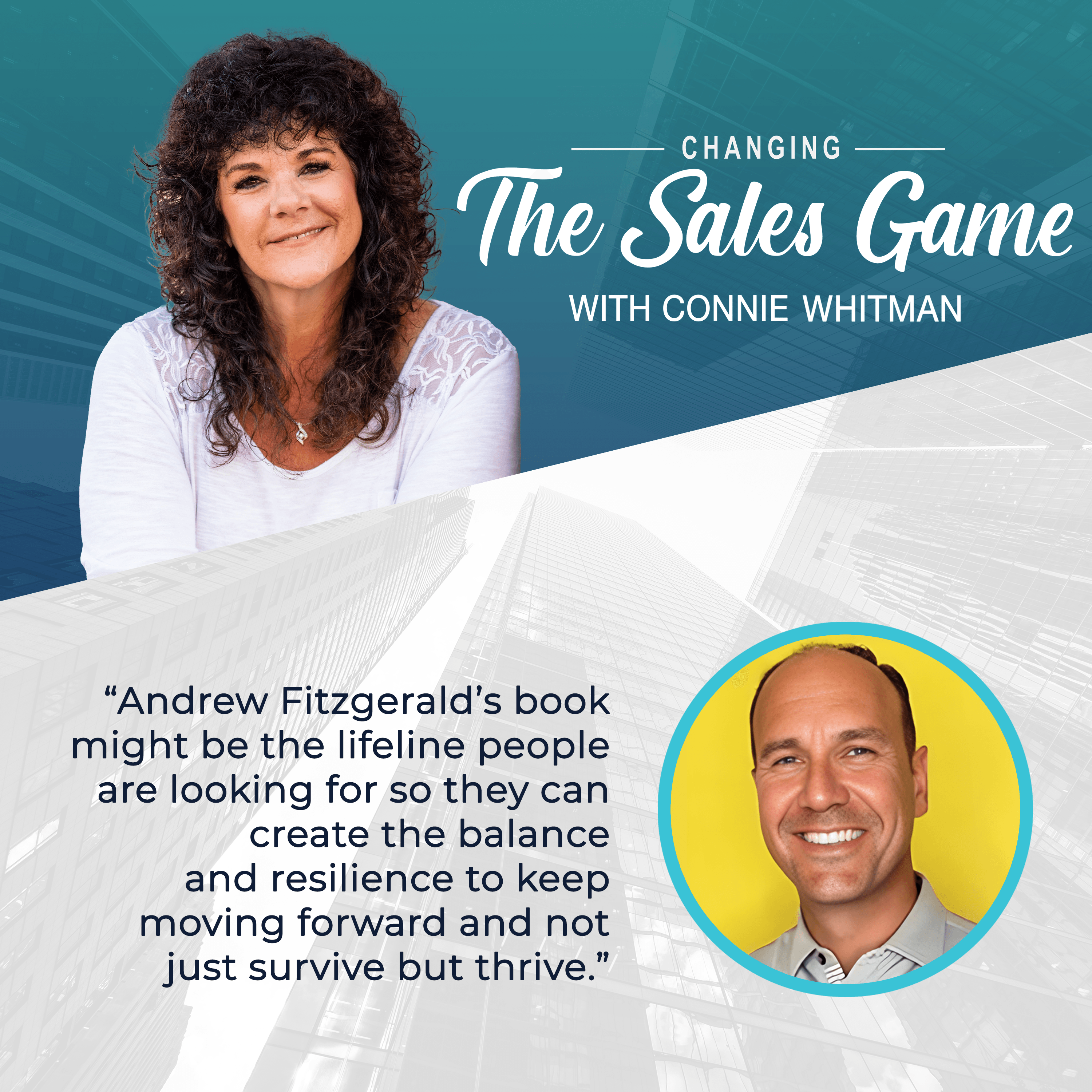 Andrew's extensive travel throughout the US ultimately resulted in him making a permanent move to the United States and then California. There were many challenges and fears that he faced and the need to show his resilience in the face of that adversity. As a father, husband, and author, he speaks on what it takes to be successful in the corporate world and how to overcome health crises and loss and recover to flourish and thrive with resilience at the core of his story. I know that was a lot. He's amazing. Please help me welcome Andrew to the show. Andrew, thanks for being on.
Connie, thank you for sharing your platform and your readers' time as well. I appreciate it.
I love it because sometimes I get these long bios like yours. As I go through, I think, "What can I eliminate to keep it brief at the beginning?" There wasn't anything I felt that I should remove because it sets the stage for our conversation. Truly, you're an expert in this. Not just surviving but thriving energy, especially in our corporate environment. That's why I didn't leave anything out. My first question, Andrew is tell us about growing up in Ireland. Your mom was a homemaker as well as a home baker. Your father was working in sales. Give us an idea of what that was like growing up.
I was born in '77. I'm happy to give my age away for people that can work it out. I started working at nine years of age. My mom was a homemaker raising myself and my two brothers and sister, but she was a home baker. We ran a business out of her kitchen in County Cork in Ireland in a very modest house. I used to help wrap the cakes in the little machine we had at the weekends. My father was a salesman. He would leave on a Monday and get back on a Friday because that was what you did. He used to sell ingredients of glucose that used to go into energy drinks. He was way ahead of his time in the '80s selling ingredients for energy drinks.
My mom was such a hard worker raising us and running the household, but then she was very passionate about what she did. I would help out wrapping all the cakes and getting them ready. On a Saturday, after my father worked all the hours all week, we would go to the local grocery stores, deliver the product and I would merchandise them onto the shelf.
I quickly could see how important it was to get good positioning in the store and more important for the customers. I said, "We're here every week. Can you help us out with better space?" The biggest single moment that has stuck with me throughout my life is people coming back to me saying how much they enjoyed my mother's cakes and that's what it's all about, the consumers, shoppers and end users. I've brought that into my life with me.
What's funny is I started with the word sales and your dad was in sales. You're in sales. I'm in sales. I teach sales. You teach and coach sales. You honor the person in front of you and meet them where they are with whatever that need is. In your mom's case, it was the delight of the cakes, eating them, and looking forward to that next fresh cake next Saturday. We were meeting people where they were on the client journey.
Building that know, like, and trust factor takes time and respect. It's about the client's journey. It's never about us as the salesperson or the corporation. Salespeople are like, "I have to make the sale because I have to pay my mortgage or I have a car payment," or whatever it is. Yes, we work because we have to make a living, but the flip side is we forget why we're selling. That's such a great story. My next question is how much of the cake did you eat?
I probably ate too much of the stuff, but I used to love them and it was always a treat. People were calling to the house and picking up cakes. My mom would give out a lot of them for free too because there would be occasions and weddings, but it was the sheer delight. I walk into the store and see a product that I've been involved in and people pick it up. We're part of people's occasions and lives so we should delight our customers and consumers as often as we can.
It is a privilege. First of all, God bless your mom who has four kids running a business and the house. I remember having my kids. Back then, your dad wasn't even home for the entire week. We have more resources for single parents. As women, we are more apt to ask for help when we have that kind of environment where a husband or a spouse is traveling a lot. Kudos to your mom. As your dad was, she was ahead of her time. She's a Renaissance woman. It's cool where you've landed in your career based on what your mom and dad did. Are they still alive? Can I ask that?
Yes. My mom is very spritely with a great memory. She doesn't move so well. She's not very mobile. My dad is a little forgetful, but at his age, that's okay. He can move around. My mom forgets nothing but can't move around. They're beautiful together.
What was your actual first sales job? What did you love about it that made you want to choose that career in sales?
During college, I studied Marketing. On the weekends and the summer months, I worked in my local golf professional shop in the golf club where I was a member and I was running the golf store. I enjoyed helping people improve their games. People come in and I provide a service to them. They're coming back to me like, "Andrew, great advice. You fitted me to this equipment. I'm playing great golf. Thank you so much. How else can we work together?"
I love that, but it was a retail environment where people were coming to me and I said, "Maybe I can go and create the man." I got a great job working with Cadbury, the chocolate company, as my first corporate job at the ground store level as a merchandiser. I recommend that to anybody starting in life out of college in sales. Get in and learn the business. I flourished.
I worked from a place of conscientiousness and integrity. If I said I was going to do something, I followed through. It taught me about time management and respect. I was very competitive. I wanted my products on the shelf in the best positioning always available and looking great. I created demand and always follow through with customers. I did that and I haven't looked back since.
I agree with you. Anybody getting into sales, whatever industry, it doesn't matter, I do think you have to start at the bottom and work your way up. It makes us better in sales because we understand the client journey, not only from us communicating and them saying, "Sure, let's do this," but then when you hand it off, what is the back office? What are the other pieces of the puzzle?
We have to identify and understand it. Also, we could partner with our internal peers that are helping us deliver whatever the service or the product is. I agree with that. It's funny. My kids have graduated college. They're starting their career, not just their academic career. My big guy works for a medical company. He's in the customer's success entry-level position. He's proven himself.
He understands the system. He's finding glitches in the system and the delivery. He's saving them hundreds of thousands of dollars because he is aware. He shows up and works hard every day. He says he's doing it and he does it. When they need him for overtime, he does it. He never says no. He's verbalized that he wants to get into sales.
The manager who's perfect and amazing was like, "John, I want you to do this and that. You have to be exposed to that." Having a great boss too that understands your career ambitions is important, but you have to advocate for yourself so that people understand what that trajectory looks like. Being entry-level is not a bad thing. It gives us such a strong foundation for sales, but you have to be an advocate for yourself and make sure those opportunities find you. I'm sure you did the same thing graduating from school.
From then on, I got more and more into the sales game, but I still sold with authenticity. What I always say is support rather than control. I can't control customers and consumers, but what I can do is support you with ideas, plans, and creativity, talk to you about your business, understand your business, and ask great open questions. If I get a no, that's an opportunity for me to come at it from a different angle or abide by my time. When things change, I can come again with a new proposal.
Support rather than control.
Click To Tweet
Sometimes if the client doesn't need us or our services and we've had these great conversations, you identify maybe bringing a colleague in that does something different that can serve them, but you've vetted that person out. You've added more value to that. There's a potential client relationship down the road. It's not always about making the sale that builds the relationship. It's about being human and helping that person with whatever the situation is. How do you get customers and clients to come with you on that little sales journey that you went through very briefly?
From all my career working in Ireland and here in the States, in the beverage alcohol industry, I've always tried to bring them on a journey by going back to where the company or the brand started from, the history and the heritage. Get them a part of it. Help them equate and understand how the brand was formed. I've worked with some great entrepreneurs and leaders in the alcohol industry.
They went door to door selling their products from day one. Ultimately, they didn't take no for an answer. However, they brought customers with them. I remember meeting the Albertsons and Vons buyers out here in Southern California for the first time. I knew of his reputation and that I had 30 minutes. I listened for 30 minutes and asked questions.
I have 2 ears and 1 mouth. My father always said, "You should be using them in that order." I listened. What did I get out of the meeting? People said, "How did you get on? Did you get distribution or a sales program?" I said, "I did not, but I only covered what's important to him and how he looks at his business. He doesn't like the presentations that we've been giving him for the last several years."
In the next meeting, I listened and incorporated what the buyer was asking for in terms of the data, programs, and ideas. He was so thankful. He was like, "Thank you for listening." That's all it was. From then on, we had to get to know each other. We wanted to do business. It wasn't about next week, next month, or next year. We sold in a lot of new distribution and programs.
I launched one of the biggest hard seltzer, White Claw Hard Seltzer, in June 2016. It was the first to market with that buyer. When we sat in a new item meeting, I got samples for everybody within his network except him. He was like, "Andrew, where's my sample?" I'm the guy making the decisions. I created a little bit of demand and then when he got the sample of people who had already spoken to him about it, there was some qualitative feedback.
In the meeting, we had four people come out like senior managers. I sat on the same side of the table as the customer. The senior manager said, "What are you doing? You work with us. Get over here." I said, "This is a partnership. We're not in court." During the meeting, the buyer turned to me with three flavors and said, "What two flavors should I put in, Andrew?" You get to that stage in your career where your customer's asking you for your opinion.
I gave my opinion and he said, "No problem." "What's the plan?" "I give you the business." "How are you going to execute the plan?" "It's over to you now. You show me what you can do." We went and did it. We had a great summer in June 2016, which built up a lot of sales data through the register. In the fall of 2016, every chain took in White Claw Hard Seltzer. It's in a $2 billion bracket. I had a great time working with them. I was ambitious and I moved on to other opportunities to continue to evolve my skill.
What's cool about that story? A couple of things. Number one, you listened. It was funny. I remember many years ago when I was in a sales meeting. Every Friday, we had a sales meeting, and the whole 48 reps of us that were in the room. The regional manager said, "Remember, you have 2 ears and 1 mouth. You should be listening twice as much as you speak."
Fast forward, many years in sales, I think it's a 70/30. That's what you described. It's more than 50/50. You truly went into listening and asked those follow-up questions to dig even deeper. He's sitting there saying, "He's listening to me. He's asking these great follow-up questions. To me, that's listening." Active listening is when we're able to ask those follow-up questions.
You built that trust. He allowed you to have that next meeting. We're very premature sometimes and ask for the business too soon, where the person doesn't know us from Adam. They don't trust us. They've heard the pitch before. That's that ick piece of sales where it's like, "Let me do the pitch now." Instead of sometimes at the end saying, "Listen. I feel we hit the tip of the iceberg with our conversation. I know it was only 30 minutes. Can we do another quick 30-minute call? I have more questions before I even think about making a recommendation of how to bring the White Claw to market," or whatever the product is.
Thirty minutes, that's tough for somebody you've never met to get the business, especially a large client like that. Instead of asking for the business, we ask for the next appointment because you feel there's more to uncover. The person feels seen and heard. They think, "No one does this. Wait a minute. What's different about this dude? I want to talk to him again. I'm curious." They become curious about us as salespeople because we're not doing what everybody else is doing. Is that your vibe out there? Did I understand that right?
Yeah. I've seen it and I'm sure I've done it at some stage. You're so conscious that you want to get your stats and pitch and get through your deck that you miss out on so much of the opportunity to listen and ask questions. I remember doing a body language course and how quickly I was able to assess what was happening in different meetings.
I had one buyer. At tricky times during our conversation, he would start rubbing his left elbow. I went off and researched that. It was a self-soothing thing that he used to do. I would remember back to what was happening in my presentation and it probably was something that was a big idea or something new. I was beginning to push a little bit too hard.
When I understood what was happening, I was able to pause. I see him rubbing his left elbow, time to stop, come back and check in with Mr. Customer or Mrs. Customer. "How does that sound to you? Do I need to clarify something? I'm sensing that you might be not following me." It gave them permission to stop and say, "I'm not sure if I like this. Can you explain more about this?"
There's so much happening with your questioning, listening skills, and body language within 30 minutes. It's not meant to be wham-bam, "Thank you." This is all about longevity partnership. We all hope to be in business for a very long time together. A byproduct of having a great relationship will be great sales, but ultimately, we want to make sure the shopper, consumer, and end-user pick us up. We have to bring it to market and do it together in collaboration.
A byproduct of having a great relationship will be great sales.
Click To Tweet
You said a couple of things in there too. It is a partnership, not just for the sale now. "I want long-term relationships." You and I play the long game. I'm not transactional ever. I become friends with my clients because they trust me. It's funny and I'm sure this happens to you. They'll call me and say, "I don't think you do this, but I trust you. Do you know somebody who does web design? Do you know somebody who does marketing or branding?"
I go, "It's not my jam, but I do have some people in my network that I trust. Let me send you a couple of names. You vet them out and see what works for you." They call you and say, "I trust you and your judgment. I know you vet people well." That's that know, like, and trust factor. When they do have something that I can help them with like sales-related or service-related coaching, whatever it is, I'm going to be top of mind.
It goes back to when you went with your mom's cakes and stuff. You were talking to the owner and they got to know you. They were like, "How was school?" You were a little kid showing up. They probably were loving you up building that relationship, but what a great lesson. Think about that trajectory, Andrew. You're still using those skills from when you were nine years old.
As an adult with these multibillion-dollar contracts, it's cool. When you look back, we are the tapestry of all of those past experiences, then university, your experience after that, and all of those things, but a partnership in the long game is the big piece of the puzzle. I'm curious. Growing up in Ireland and then coming to the United States, how did you know you wanted to stay here? Are your mom and dad still in Ireland, Andrew?
Yeah. Everybody's in Ireland. My wife Jane is Irish. We have a boy, Alfie. We're here for several years. It's been the 2 of us and then the 3 of us since Alfie came.
That's a tough one to leave your family. I'm Italian so my family and I live within a 2-block radius. Coming across the world, I'm fascinated by that. Why end up in the US when everybody is home?
It's a sense of adventure for both of us. We always shared an adventure for traveling. We took some time out of our careers and traveled all around America, mainly on the West Coast. We fell in love with San Diego, went back to Ireland, and said, "Why don't we make a legal move to America, an opportunity to perhaps chase some dreams?"
We didn't leave Ireland because of any economic or social circumstances. We were doing very well and well-settled. We entered the green card lottery, which is the permanent resident card lottery that's held every year. It's America's way of increasing diversity and we were picked out. We had six months to get ourselves in order and get to America if we were going to be serious about it.
We decided to take a chance, be courageous and move. It was difficult. We were very structurally organized. "You know the things you need to do. Find something to live and get a job." Also, Social Security number and opened bank accounts, but we weren't emotionally structured and we missed home terribly, both of us.
We did only stay for about ten months and then moved back to Ireland. When we touched down in Ireland, we were like, "This doesn't feel like we gave ourselves the best shot in America." We didn't stay very long back in Ireland again. We came back. Ever since, we're here for several years. We should have been a little bit harder on each other. We should have given each other a kick in the butt. We should have been more open and spoken about what we were both feeling. I do say in the book that I wrote that we found comfort in each other's discomfort.
You're going through it together. We forget that sometimes, but that's amazing. You deal with international clients. From the realm of sales, do you find that there's a difference in how you approach the different cultures internationally? Do you flex your processes to whomever the person is in front of you? I'm curious. Do you mix things up?
I mixed it up. At the core, it's the same. The world is over. You have to summarize the situation, state your big idea, check in, and educate customers, but I affect my style because, between America and Ireland, there are different cultural styles in terms of pace, speech, and tone inflection. Generally, if I was talking to some Irish customers, we want to have a long chat and conversation. Some Americans can be very direct and to the point.
I did some great training along the way. I was very lucky with all these companies to get some situational training. Back then, they were categorized by different colors. A red-colored sales personality was, "Be brief, be gone." Blue was cool. Yellow, we would talk about everything all day long. You got to get back to sales. I've been able to flex my style. I quickly assess what traits or styles. It's not a science. Ask good questions and you'll find out who it is. It's all about tailor-making things for different people. There isn't a one size fits all sales process.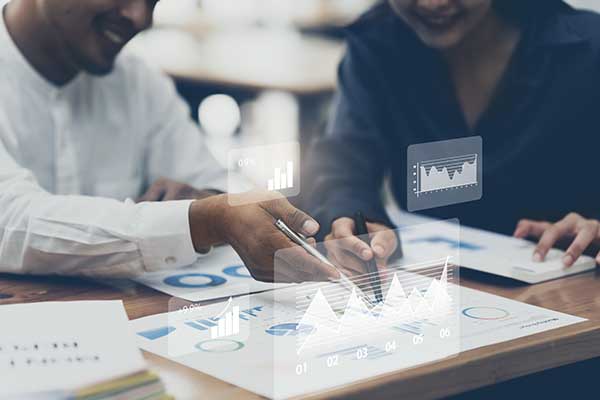 I love that you said that because there are other vendors out there like sales vendors who are good for a specific type of company. People that choose me, I'm not a one size fits all. You deal with the beverage industry. I deal mostly with banks and credit unions and then the small business owner. Their demographic, objectives, and client base are different. Who am I to come in and say, "This is the way you have to do it because it's the right way?"
That's not necessarily the truth. I could give them the process, but in the conversations I have with my client, I use my communication style. We have to understand ourselves and who's in front of us so that we connect more deeply and quickly by having these little tools in our arsenal. I agree. I'm on the East Coast and you're on the West Coast. We're very diverse. We have every possible nationality from maybe Connecticut down to Maryland. We are the melting pot over here.
I tell people, "If you're in a Polish community, a Russian community, or a Mexican community, get to know their culture because you want to ask, 'What are you doing for the holiday?'" Share what you do. It creates that human-to-human connection. It sounds silly, but people want to talk about what they're doing at home, the cookies they're baking, and all of those other things.
Through food, we find commonality. I agree. No cookie cutter. The other thing I wanted to comment on that you said before and I forgot to mention was the body language. Fifty-five percent of all communication is through our body language. Most people don't have a clue what their body is saying or what energy they're throwing out there.
You think, "People can't read me." We can read and feel at a very subconscious level so we can make that first impression within nanoseconds. It doesn't even take 30 seconds. I have to be mindful of all these pieces of the puzzle and understand the client in front of me so that I can flex and connect with them at that deep level very quickly.
I suppose since the pandemic, things have begun a lot more virtual so that can be tricky too. I had a buyer in Southern California. When we used to meet in person, his leg would shake straight away. He was an impatient person. I would speed up my sales pitch or sales story and check in. On Zoom, he is hard to read, but his leg is probably going at 100 miles an hour under the desk. When you're meeting people for the first time, that could be tricky too. In the virtual world, we all have to be conscious of speaking with clarity and also being aware of what we're doing with our hand gestures and so on. It's an ever-developing science.
The eyes are the windows to the soul so you can tell a lot through someone's eyes if they're engaged or not engaged or if they're worried about something. All of that is displayed. Part of body language or facial expressions is pretty strong with what the emotion is behind it, per se. Even on Zoom, we can pay attention and hone that skill as well. It's new. We're on Zoom a lot. Like anything else, it's a skill that we have to continue to work on, be aware of, and develop. The last question is about your book. What I get here is the title. How have you had to adapt your selling and marketing for your book? Were there any surprises or changes?
Effectively, my book is my little brand so it was very easy before to sit in marketing meetings and have someone else come up with ideas and things. I had to sit down and think about the message. The core theme of my book is resilience supporting my corporate life and also personal life. My book is a business book effectively, but it does take a chance of being authentic about the things that do happen in people's lives and the ability to overcome obstacles and survive and thrive.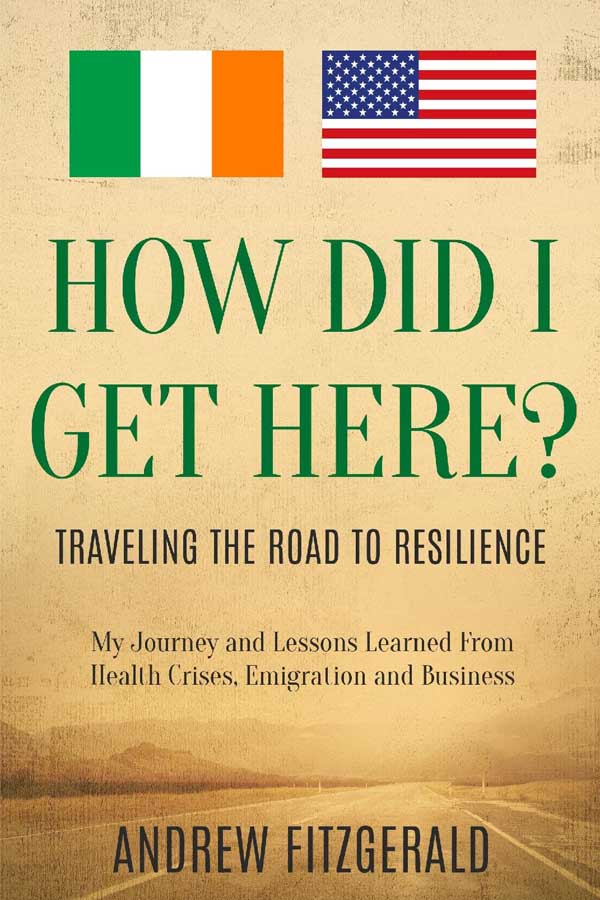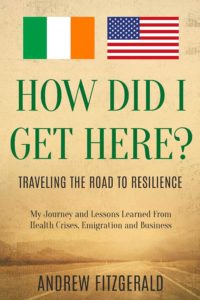 As people read about my story, they'll understand some health issues I had when I was younger and where I flatlined twice at nineteen years of age but was successfully resuscitated. Thank you so much, God. It was a very scary time. As a teenager, at one stage, I probably didn't realize what the severity of it was, but I'm a father now. I can only imagine if I saw my son in that position lying on a trolley waiting to be flatlined and then resuscitated, what my mom and dad must have been going through.
On a personal level, my wife and I suffered four miscarriages before Alfie came along. There's lots of stuff within the book, but from a sales and marketing point of view, I'm starting from scratch. I'm in a new realm. I'm very somewhat uncomfortable because I'm out of my comfort zone, but that's where real growth happens.
What I found is to seek out people like experts in the industry. I spent a lot of time at libraries and going to authors' talks. How you sell and market a book is very different from how you sell and market a product in a store. However, there are some commonalities. You got to go and meet people where they hang out. If I wanted to launch a brand in a supermarket, I'd probably go to the supermarket, get feedback and get them to try the product.
I'm getting involved in authors' groups. I'm going to lots of talks. I'm doing some Zoom and podcasts to get the word out there about the different sections. Thank you very much, Connie. It's ever-evolving. It is new and somewhat uncomfortable, but I'm embracing it. We should embrace uncomfortableness because that's where real growth happens.
At the edge of the comfort zone is where growth and the opportunities are until you get there and then you see it. It becomes obvious, but you have to get there and move forward. I'm still reading the book. I have to tell you that it's authentic, real, and loving. With the resilience piece of it, I feel like anybody that reads it, you have to walk away thinking, "This is going on in my life, but I can take whatever that baby step forward is through your stories, ideas, and different strategies that you share."
The other thing you said that is important is we feel alone a lot. By you trying to understand, "I'm selling this book, which is very personal," you're putting yourself out there, exposing yourself, and making yourself super vulnerable by talking to other people that have gone through that journey. You're getting on shows. The more you talk about it, the bigger we can serve in our comfort zone. We're at the next step and the next step. You look back and go, "I'm far along in this journey. This is pretty cool." You don't realize how much angst you left behind or that you worked through.
I'm a four-time published author like you. The book puts you out there in a very vulnerable way. That's great. Everybody should buy the book. It's funny because it's a business book, yet it has this very human side to it. We forget that we're a business person and then we're people person. The Book of Life throws us curveballs. It's what I started with. Your book might be the lifeline that people are looking for so that they can create that balance and resilience, which I love that word, to keep moving forward and not just survive but thrive. We should all be thriving.
The book is available on Amazon as an eBook and a paperback, but I have the best salesperson in Ireland. My mom is selling books like The New Times. She's all the neighbors. She's every single person in her roller decks. Remember, there are different generations. She's having coffee mornings. They're coming around and reading a chapter out. It's humbling. I'm getting reviews from people I don't know and it is gratifying. We're sharing the message and the book. The sales is a byproduct of that. It's like everything else. I very quickly panicked because we were coming up on time.
I wrote the book for three reasons. 1) To have no regrets in life. I have gone and done that. It was a long time coming. My wife was great to push me, "Go and do it." 2) I got support from a book coach named Andrea Susan Glass. She's a fantastic lady here in Oceanside. I wrote it for my son, Alfie, to give him a copy for life. He may be your only child. Who knows? God willing, we may have another child, but I want him to know about our lifestyle in Ireland growing up and about him. 3) For the readers to be motivated and inspired to overcome anything. Everything can be overcome. We should celebrate life every day everywhere with everyone.
Everything can be overcome. We should celebrate life every day everywhere with everyone.
Click To Tweet
Is the book specific to salespeople or now that it's out there, there's a bigger ripple effect than even maybe you had anticipated?
Yeah. It's been interesting. Some of my closest friends are talking more authentically on a different level to me about the tough times in their life. I've had a lot of females reach out to me, which is different because I'm a man talking about miscarriage. It happens. It's a difficult subject for everybody, male, female, or couples. It's resonating with different people.
For a lot of the students that are thinking about leaving Ireland, immigration is a thing unfortunately that happens. They're reading it and learning from it because when you're young, you think you have control over everything. "If I read Andrew's book, I'll follow these steps." There are lessons in the book, but until you walk the walk yourself, you don't know about it.
It's resonating on different levels. I'm enjoying and having fun with it. I love the marketing piece of it. I lent on a connection who got me a digital billboard next to the 5 Freeway in Los Angeles. I have something coming up. That was interesting. I'll be honest, I was standing next to the billboard waiting for me to flash up so I could get a picture of it. I was like, "This is great."
I hope I wasn't going to cause any accidents, Connie. I don't want people looking at it too much. You got to meet people where they are, even if you tap someone's attention. Let's share the message of resilience. It's within all of us. I do say that the power of resilience is out there. Let's sell authentically with relationships and collaboration at the heart wherever.
Also, no matter who we're talking to. Even if salespeople or corporate, it doesn't matter. Everybody's dealing with something. We have our hardships. You think that because maybe I camouflage it or you camouflage it. We show up and do our job because that's what my customers or clients deserve. Everybody's going through something. If somebody's having a bad day, meet them where they are and show compassion. Resilience can be taught through our encounters as we do our jobs, whatever that is for the people reading.
Thank you for creating this book and for sharing your journey and being so open and vulnerable. We have to be vulnerable to build the know, like, and trust factor, but I also think people understand your story, the four miscarriages, and moving to another country. These are big and scary life events. Also, dying twice and being resuscitated. Look at how far you've come. Your mom's selling. That is the cutest thing I've ever heard. That's awesome. She's proud of you. That's so cool.
It's brilliant. Every day she has an update for me, I'm like, "I better check the sales numbers." It's given her new energy and a sense of life. After COVID, all the neighbors hadn't met much with each other and they're back having their coffee mornings chatting about the past. Life is about face. We're all going to be old someday so let's celebrate the good times, reminisce with each other and have fun.
We're all going to be old someday, so let's celebrate the good times, reminisce with each other, and have fun.
Click To Tweet
I love that the book is allowing your mom to do that with her local peeps. That reconnection gives her purpose. That was never your intent but look at that beautiful ripple effect. There's so much good ripple effect out there when we create something from that place of love and honor ourselves as well as those that we're trying to serve.
You need Andrew in your life. Go to his website, which is AndrewFitzgeraldAuthor.com. If you have a question and want to pick his brain, reach out to him on his email, which is Fitzgerald_Andrew@Yahoo.com. You can find the book on AndrewFitzgeraldAuthor.com. Is there a gift or something on there that they could find, Andrew?
Keeping with the great sales acronym, Keep It Simple, Silly, KISS. Go to the website and add your name to the contact list. In the subject line, put Connie's show or in the body of the email. I'll offer a 30-minute free coaching session to everybody that reaches out. My commitment is no matter how many people reach out, I will follow through to spend 30 minutes talking about your situation and perhaps how we could work together and see where we can go from there.
That's beautiful. Thank you so much. I love when my guests pay it forward and honor the people reading. If somebody resonates with you, it's a direct connection because if they heard you, they get the vibe. If they buy the book, they read the book. It's all about that long game of building the relationship. Sometimes it does start with a conversation on a show.
My peeps, I hope that you take advantage of that offer and read the book. It's a good read, as well as learning. To me, it was well-written. Thank you for that as well. I hate reading books that are not well-written, Andrew. It's painful to try to get through. Yours is like, "I can't read, but I have to do this now." I try to read a little bit here and there because it is a good read. Thank you for being on and for creating the magic out there that you're doing. It's important stuff. I wish you so much luck with the book. Thank you again for being such an amazing guest.
Thank you, Connie. You're very kind. Have a great time.
Yes, you too. I hope you will join me in every episode as we question, build and discover together. No matter where you are on your journey of sales, business, and career, I do hope that my guests and I provide some strategies, tips, and ideas that you can implement immediately. Some of the ideas that Andrew shared, take them and put them into place.
Do your listening, 70% listening, and 30% where you're speaking. Try something simple and I promise you, magic happens at the back end. Information is a beautiful thing. If we do nothing with it, it's simply information. Implement some of the ideas we talked about and report back. I love to hear the magic that's happening in your life and business.
Thank you again for reading. I will see you next time. I am honored to have you on this journey with me. I truly hope that my guests and I provide good value every episode for you to try to move your needle, whatever that means for you to make life a little bit easier, our business more successful and our family life easing grace. Wishing you a wonderful time. I love you all. Thanks again.
Important Links